Customers have more options than ever, and a strong customer success program can make you stand out among competitors. Companies that consider the question "what is customer success?" – and work to anticipate and solve customer problems – will set themselves apart.
Customer success management can also reduce churn, lower customer acquisition costs, and increase revenue. Since acquiring a new customer can cost 7x more than retaining an existing customer, focusing on long-term customer success is crucial for growing businesses.
In this post, we'll cover:
---
What is customer success?
Customer success is using your products and services to proactively solve customer problems before they arise and answer customer questions before they're asked. Strong customer success programs can increase customer loyalty and retention by fostering positive relationships between customers and your brand.
The term "customer success" oftentimes gets misunderstood as being the same as "customer support" or "customer experience." While the terms are connected, it's important to understand their key differences and how each plays a role in a successful customer-focused organization.
Customer success vs. customer support
Customer success is a proactive partnership between an organization and its customer. Customer success teams consider customer goals at the start of the relationship and advise ways to achieve those objectives with their product or service offerings. Customer success teams can stay ahead of churn using recurring check-in meetings, asking for feedback across the customer journey, and taking action on that feedback to improve customer relationships.
Customer support (or customer service) involves working on the front lines with customers. From answering phone calls to responding to emails and live chats, customer support teams answer questions reactively to solve immediate customer problems.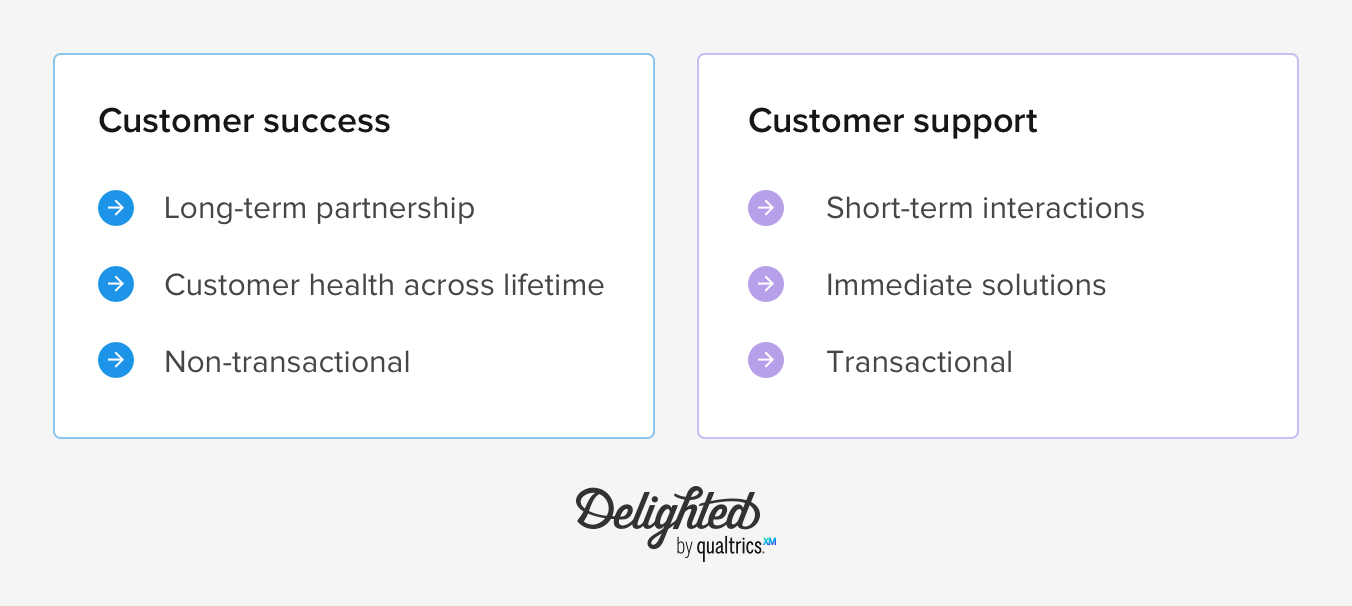 Customer success vs. account management
Similar to customer support, account management teams typically handle customer problems after they arise. In this case, account managers support a particular set of dedicated customers.
These customers are often considered VIPs: those with high-value accounts or accounts that have the potential to bring in new revenue.
Both account managers and customer success teams focus on customers' overall health, but account managers do so through the lens of growing the business and bringing in revenue.
Next, we'll go over the difference between customer success and customer experience to understand the true impact of customer success.
Customer success vs. customer experience
Customer experience overlaps with both customer success and customer support but also has notable differences.
Customer experience, or CX, is focused on creating a seamless experience for all customers who engage with your brand, whether that be through interactions, user-friendly help center solutions, or product usability. Organizations routinely measure CX metrics to understand how their brand is seen and experienced by customers and to make large-scale decisions based on the insights.
On the other hand, customer success focuses on the individual customer and whether they are getting value from the product. Is your product meeting their needs and aligning with the product promise? The key to customer success is unlocking additional capabilities within the product that meet the deeper needs of the customer.
When companies implement customer success and customer experience, they can unlock more revenue since they can create more value for their customers through cross- or up-selling. We'll go into more detail on building a strong customer success program later in the post.
---
Why is customer success important?
A strong customer success program makes all the difference in customer satisfaction. With 67% of customers saying their standard for good experiences is higher than they've ever been, customer success is more important now than ever.
When customers feel that your teams and products help them be successful, you can earn a lifetime of loyalty from them and ultimately reduce overall customer churn.
Investing in customer success will also increase your number of customer referrals because successful customers often share their positive experiences with others. After all, happy customers can become your biggest advocates.
---
7 tips for a strong customer success program
A strong customer success program is not created overnight; it takes active planning and preparation. We've outlined 7 tips you can use to integrate customer success into your organization.
1. Make customer success a company-wide priority
Customer success is most effective when every team has a role in ensuring customers accomplish their goals. Encourage open communication between departments to collaboratively identify customer needs and action plans for how you will meet them.
To do this, you can start by educating all departments on customer success, its value, and how to implement it. Here are some ideas on how to do that:
Determine which customer success metrics are most applicable to each department. For example, your product team may benefit from monitoring their product adoption rate, while your customer support department would benefit from tracking their Customer Satisfaction Score (CSAT). These metrics can then be used to set quarterly, measurable customer success goals that each team can strive to achieve.
Include team members on kick-off calls. Since customer success teams are typically responsible for onboarding customers, you could include members of your product or sales teams on your kick-off calls to inquire about new features or products that may interest customers.
Brainstorm customer pain points with other departments. For example, during a cross-functional brainstorming session, you can ask your sales team which questions are asked most by potential customers during prospecting calls. With that information in mind, you can then update your website to answer incoming customers' FAQs proactively.
Anticipating what customers will ask about or look for in your product will allow you to exceed their expectations. With that, you can prioritize customer success by keeping it front of mind for all internal and external business operations.
2. Implement a customer success team
To create a more holistic plan for customer success, you can implement a customer success team outside your customer service or support team, led by a customer success manager (CSM).
While only some businesses will have the bandwidth and resources for a dedicated customer success team, assigning a few individuals with customer success duties can make all the difference. However, hiring a customer success manager may be in your best interest as your business grows.
Why hire a CSM? Investing in a customer success manager can increase customer satisfaction, support long-term business growth, and free up the bandwidth of other team members tasked with customer support. Wondering how many CSMs to hire? Forbes recommends having one customer success manager for every 50 customers.
Hiring a CSM can also expedite business growth through a personalized renewal process: in fact, startups that manage customer renewals better than their competitors grow faster and require less capital.
In the meantime, look to your customer service or support team to uncover common customer pain points and work on solving them. Once you know your customers' end goal, your customer success teams can transform one-off interactions into a larger-scale success program.
3. Design an onboarding experience set up for customer success
When it comes to implementing customer success, the onboarding process is a crucial point in the customer journey where you can make a positive first impression.
Onboarding is also a great place to ask questions about the customer's goals, expectations for the partnership, how they measure success (Net Promoter Score, customer churn, etc.), and how you will request their feedback.
CSMs and their teams onboard customers by educating them on how to use your product to best meet their needs. Once you're aware of the customer's goals, point out features of your product that will be the most helpful to them.
When you understand how your customers perceive success, you can begin to set milestones to ensure they succeed with your guidance.
4. Set up a knowledge base
When customers have questions about your product or encounter an issue, 63% begin by searching the brand's online resources. Why? Self-service solutions are much faster than creating a support ticket, calling customer support, or detailing the issue in an email. Customers wait an average of 7 hours to get a response to a customer support ticket and about 3½ days to resolve their issue.
Instead of having all inquiries go to your customer support team, be proactive and provide a self-service knowledge base or help center that can answer customer questions quickly and effectively. 69% of customers prefer to resolve issues on their own, so making sure resources are available for them to use will set you and your customers up for success.
At Delighted, we revamped our Help Center in early 2020 and noticed a significant decrease in customer support volume, even with an increase in our customer base. Investing in a comprehensive knowledge library for your customers saves you time and bandwidth.
5. Determine customer success metrics to track regularly
Tracking customer success metrics keeps you accountable and aware of how well you're helping customers achieve their desired results.
Below are some examples of customer success metrics to track.
Customer lifetime value (CLV)
Customer lifetime value uses a formula to calculate how much a customer is worth to your business in revenue throughout their customer lifespan. Track this metric to earn more revenue from loyal customers over time.
Customer retention rate
Customer retention is how well your business keeps customers returning for repeat purchases over a period of time. A great way to keep a pulse on customer retention is by tracking your customer retention rate. Since retaining existing customers is more cost-effective than acquiring new ones, CS teams should keep a close eye on their customer retention rate and take action to retain customers.
Revenue churn rate or MRR churn
Revenue churn, also known as monthly recurring revenue (MRR) churn, is the amount of revenue lost when a customer churns. Revenue churn rate is an important metric to measure revenue loss from one month to the next. If you see an increase in revenue churn rate, you'll need to take the necessary steps to decrease customer churn.
Customer churn rate
Customer churn is when customers stop using your product or service and are no longer customers. Customer churn differs from customer retention, which determines how often you retain customers.
Instead, customer churn measures how often you lose a customer by calculating your customer churn rate. With knowledge of your churn rate, you can take steps to retain customers and prevent them from churning in the first place.
Product adoption rate
Product adoption is when customers become aware of your product and consistently engage. It's measured using product adoption rate or the number of new, active customers.
Most companies use breadth of adoption to measure how engaged customers are, which measures how much of the product the customer uses. However, the breadth of adoption metric varies from company to company based on their product or service.
CS teams can use product adoption rate to assess account health and identify customers who are either not using the product frequently or only using some product features.
Net Promoter Score (NPS)
Net Promoter Score is a quantitative measurement of how likely customers are to recommend your brand to someone they know. Monitoring NPS is an excellent customer success metric to track to find promoters of your brand and encourage referrals.
Customer Satisfaction Score (CSAT)
Customer Satisfaction Score is another quantitative metric used to determine how satisfied your customers are with an experience. CSAT scores measure their satisfaction with your product, service, or interaction with customer support.
Measuring and tracking your CSAT score is an actionable way to know whether your current processes help your customers succeed and which processes may need improvement.
Customer Effort Score (CES)
Customer Effort Score measures how much effort a customer has to make to complete an action, from purchasing a product to getting the answers they need on a customer support call. CES is a crucial metric to track if you deem success as creating a product or service that is easy to use.
Using concrete data to track customer success leaves no room for doubt when ensuring your customers achieve success.
6. Create a customer feedback program
Another way to measure customer success is by asking for direct feedback through a customer feedback program. Have customers tell you whether or not they're achieving their desired results. That way, you can keep a pulse on customer sentiment across the partnership and uncover areas where you can improve your customer success program.
Establishing a feedback listening program will allow you to act quickly on insights, build customer trust, stay ahead of potential disgruntled conversations, and prevent churn.
TIP: Customer success managers can have Quarterly Business Reviews (QBR) to update team goals, measure progress toward those goals, and identify improvement areas. QBRs are a great way to gather customer feedback in-person or virtually and check in on overall account health.
7. Close the loop on customer feedback
Once you've collected feedback from your customers, close the loop on their feedback with a timely response.
If you receive positive feedback, encourage those customers to share their experience by leaving a review or referring a colleague. For negative feedback, direct customers to the appropriate team, depending on their feedback, to resolve the issue and prevent it from reoccurring.
Taking the appropriate action after receiving feedback shows your customers you're dedicated to their success.
---
Help customers achieve success with the right tools
Customer success is one of the many pillars of successful customer experience and high customer retention: creating positive experiences for customers keeps them coming back.
Customers' standards are higher than ever, and they are willing to pay more for a guaranteed good experience. Whether you want to track important customer success metrics or kick-start your customer feedback program, Delighted surveys help you prioritize customer success.
Get feedback in minutes by signing up to send customer surveys at no cost.