Net Promoter Score (NPS) is a key indicator of customer satisfaction, as well as a strong predictor of future growth. To improve your customer experience (CX), having the right tools to get you the information you need about the people who shop with you is essential.
As Cassie Layton, Head of Marketing at Happy Returns, says:
"The NPS program is the most immediate and comprehensive 'eyes and ears' we have for understanding customer satisfaction."
Having tools that can get you the information you need about the people who shop with you is essential. One of those tools is robust NPS software that can automate important functions, customize your surveys, help you track your NPS score with built-in reports, and more.
In order to choose the best NPS software option for your business, your first need to understand your own needs. Going through a customer experience survey design process will help you identify your goals, and clarify the scope of your customer experience program. Then, you'll be able to figure out what features you need to make the most of your NPS software.
---
Why do you need specialized NPS software?
There are a number of companies that offer NPS tools as an add-on to an existing product. Can you get by using those? The short answer is "kind of." The longer one is that while those tools may satisfy your initial need to gather some feedback, they will never be as effective as specialized NPS customer experience platforms.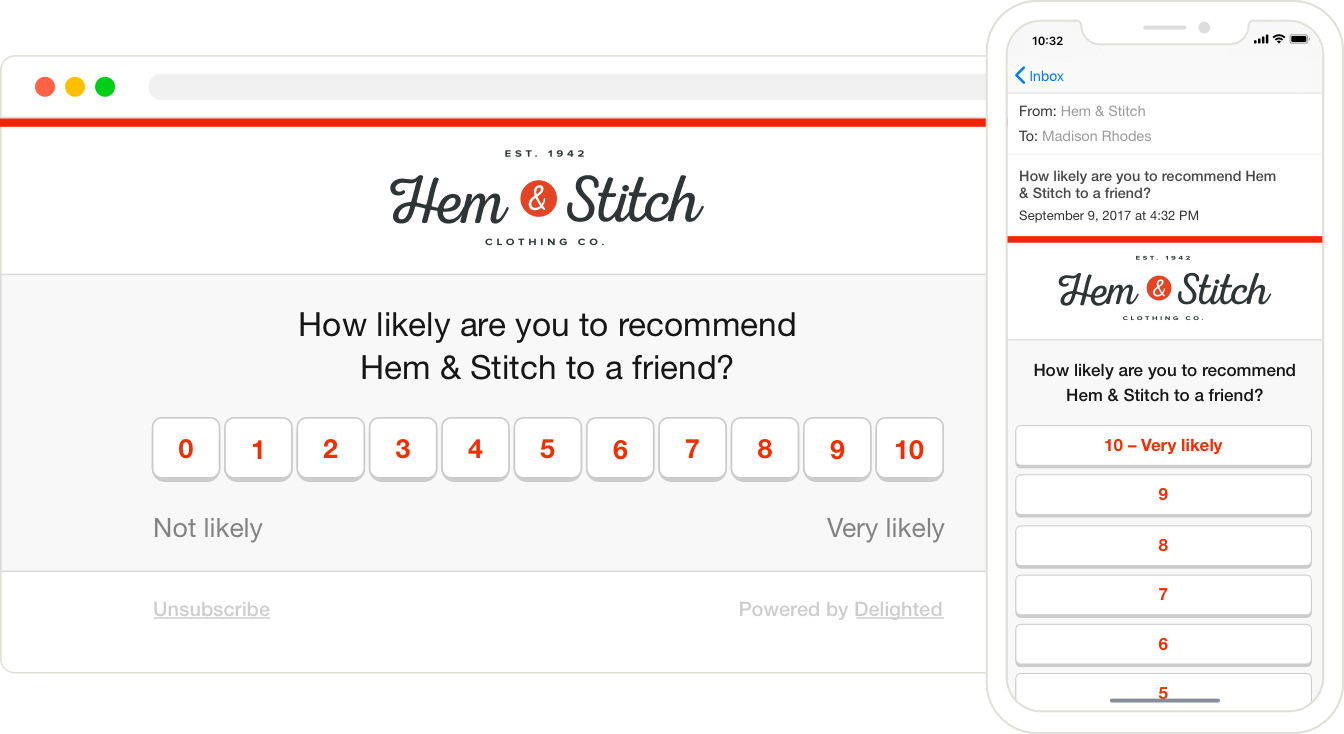 Dedicated NPS software will have more robust survey triggering and survey distribution channels, specific analytic and reporting features, and integrations that let you incorporate NPS scores and feedback into your existing ecosystem. This allows you to gather more useful data more efficiently and act on the information you receive.
Companies that focus specifically on customer experience will also continually improve their NPS survey features to keep pace with your CX program goals.
---
Questions to consider in your NPS software comparison
Every brand's needs are unique. The best NPS software for you is going to be one that satisfies your needs now, but will also be able to grow with you as your business evolves.
Here are 6 questions to ask yourself before you begin looking at NPS software:
1. What is your survey volume?
How many surveys will you typically want to run? How many shoppers do you need to reach? You need to make sure that the software you choose can handle the volume that you need. Most companies limit survey volume by pricing tier, depending on the number of surveys you're sending via a certain distribution channel, or by the number of survey responses received.
2. What is your preferred NPS survey distribution channel?
How does your audience like to be reached, and will your NPS software be able to send out optimized surveys in that format?
Oftentimes, you won't be able to reach all of your customers with just one distribution channel, which leads to skewed survey results from sampling bias.
For instance, B2B product development tools that offer in-app surveys can gather feedback from some of your audience, but far from all. Your key stakeholders on the client side may not be the ones who are in the app day-to-day, and might not see your NPS survey at all. This means you could be missing out on feedback from a core customer segment.
The other limitation of NPS software that restricts you to surveys within an app or web experience would be the type of feedback you receive. Feedback provided could end up very specific to certain features or workflows.
What you want to be able to capture with NPS is how customers feel about the overall experience. If you have multiple distribution methods, you'll be able to gather both relationship and transactional NPS feedback for a holistic view of your customer experience.
3. What existing Customer Relationship Management (CRM), helpdesk, or product development tools will you need to integrate with?
Integrating data sets manually is extremely time-consuming. To avoid creating extra work, make a list of the current tools you're using, and make sure any NPS software you evaluate will be able to integrate with them. This way, you can start acting on the information you receive right away without having to expend any extra effort.
4. How many questions do you want to ask?
The standard NPS survey consists of the question "How likely are you to recommend [company] to a [friend or coworker]?" plus an open-ended follow-up question. Some NPS software platforms also allow you to layer in extra questions for more insights on specific aspects of the experience, while others only allow you to ask those first two questions.
Identify the types of survey questions you'd want to ask in addition to the NPS question, and make sure your software supports them.
5. How quickly do you need to get your NPS program off the ground?
Your time is valuable. The quicker and easier setting up your NPS program is, the sooner you can get back to doing the jobs that you do best.
Would you need your tool to handle sending all the surveys for you, so that you don't need to bring on extra marketing resources? Does your design and dev team have the bandwidth to help you with formatting and implementation?
There are NPS software tools that handle the entire survey process for you, so you can literally get up and running in minutes. 
6. How much support would you like?
If you have a question or an issue, you need answers fast. If you're looking at launching a sophisticated customer experience program with multiple integration, distribution, and reporting needs, you might also like some extra customer success support to make sure everything is running smoothly.
Evaluate NPS software options with an eye to your support needs, and make sure the vendor has a history of great service when checking reviews. Also, keep in mind that a company whose core focus isn't NPS may not have the expertise to provide the guidance you need to enhance your program.
Look for a provider that offers best in class service for a better experience.
---
Must-have NPS software features
Once you've evaluated your own needs, it's time to start considering the functions and features that will serve you best. We recommend looking for NPS software that provides all of the following:
Customizable survey templates
A customizable survey template is one of the most important must-haves. This allows you to apply your brand's colors and attach your logo to any surveys that you send out.
Being able to personalize your surveys is also key, whether that means referencing the specific product or feature a customer used, using their first name when you're requesting feedback, or sending NPS surveys in multiple languages.
These customizations set context and make the survey recognizable to your customers, which in turn increases survey response rates and feedback quality.
Multiple survey distribution methods
Can you reach survey subjects on the channels that they are most likely to use? Quality software will allow you to gather results from link URLs, an email survey, and web in-app.
QR code and kiosk surveys are good ways to get feedback on in-person experiences.
After you confirm the solution has your ideal distribution method, also check that the company employs formatting best practices, since that can also impact whether people answer your survey.
With various ways to respond to surveys, your customers can choose the platform they prefer most, which means they are more likely to take the time to share their opinions with you.
Control over when and how often NPS surveys are sent
Some folks are more likely to respond at certain times than others. If your business is largely B2B, for instance, you'll get more responses when a fresh survey pops up in someone's inbox during working hours.
For any audience, you'll always want to allow enough time for your customer to experience your product or service, but not so much time that the experience is no longer fresh. Control survey timing to a tee with an NPS software that has an API, so you can trigger NPS surveys at just the right time.
Plus, if you like to send surveys at regular intervals, you should be able to schedule these easily from within your NPS software. This way, you can perform a task once and benefit repeatedly.
For more tips on survey timing, check out this guide on when to send your NPS survey.
Customer segmentation
It's not enough to know about your customers as a group. You need to be able to get information about how individual customer segments feel about your brand. Does your customer experience vary by geography, product purchased, or which support agent helped them out?
How likely are customers of a certain lifetime value to continue working with you?
With customer segmentation via Properties, you can get this information easily and make plans to engage each demographic in the right way.
NPS survey analysis and reporting
Collecting data is just the first step. Once it is in your hands, does your NPS software help you understand what it means?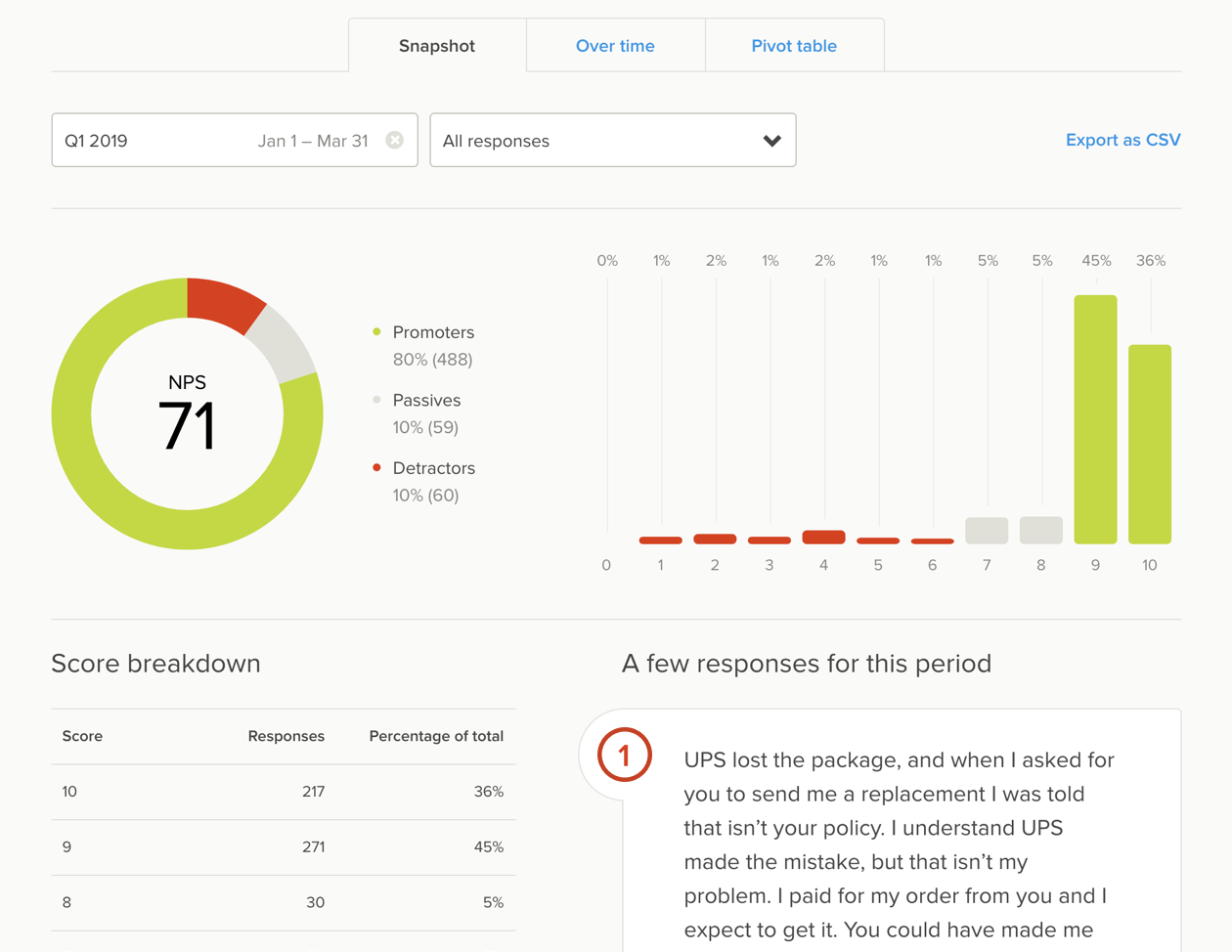 Quality NPS software will provide easy to understand NPS survey reports and analytics so that you can tell, at a glance, how consumer sentiment is trending when it comes to your brand. You'll also be able to pull presentation-ready charts directly from the platform, saving your from having to manually crunch data.
Explore the Delighted demo to dig through customer feedback and get a feel for the types of insights you can surface.
Closing the loop on NPS feedback
When people start responding to your surveys, it's inevitable that some will raise issues that your brand needs to address. Having NPS software that allows you to reach out to customers and close the loop means, in the end, happier customers. They feel that their feedback is important and that their experience with your brand is, too.
There are multiple ways to create a closed-loop feedback system. The most immediate is by customizing the "Thank you" page a customer sees after they've answered your survey. Provide next steps for customers to take based on how they score your brand experience. The other way your NPS software can help you close the loop is by emailing alerts and regular reports to the team responsible for a certain part of the customer experience.
Or course, closing the loop on feedback is much easier if all of the customer comments get integrated into your existing tools, which leads us to our next must-have feature: Integrations.
Integrations
Life is easier when all of the platforms and applications you use every day play well together. Integrating seamlessly with platforms like Zendesk, Slack, Shopify, and others makes your life easier. Look for NPS software that allows you to accomplish this without needing extra technological help.
Simultaneous survey projects
As your customer experience program grows, you may find yourself wanting to branch out from sending only NPS surveys.
NPS software companies often offer multiple survey templates, such as Customer Satisfaction and Customer Effort Score, so you can use specific survey types for different teams.
Running multiple survey projects increases the quantity and quality of customer insights you can get from every part of the customer experience.
---
Choosing the best NPS software for your business
Once you've spent some time determining your own goals and needs, you will have a better idea of what NPS software will give you the results that you want.
Curious about Delighted? Get started with a free, dedicated NPS software solution.