2020 required many companies to pivot their internal and external customer processes to provide convenience and safety. Switching to a more virtual world has sparked the need for customer feedback on updated customer experience (CX) strategies to ensure that all adjustments are as friction-free as possible.
No matter your situation, the value of real-time customer feedback has never been more apparent. Let's break down what a customer experience strategy is and specific feedback strategies you can implement within your own company to embrace customer experience at all times.
What is a customer experience (CX) strategy?
A customer experience (CX) strategy comprises the plans that a company puts in place to provide positive experiences at each customer touchpoint along the customer journey. A good CX strategy includes measuring how customers feel over time to create high-quality experiences that improve customer loyalty.
Forming a successful customer experience strategy starts by setting company-wide, customer-focused visions to match business outcomes to customer expectations. Customer experience metrics supported by feedback data help you set measurable goals, benchmark how strong your customer experience is now, and prioritize what actions should be taken to get you where you want to be.
Starting your customer experience strategy
According to a 2020 customer report from the research firm Walker, customer experience has and will continue to surpass both price and product in importance for business strategizing. So, whether you're noticing an increase in customer churn, or you're looking to industry trends to stay competitive – there is never a bad time or reason to create a customer experience strategy.
To begin your CX planning journey, it's important to start by asking yourself a few questions.
How am I measuring customer experience?
It's no surprise that understanding how your customers feel about your product, brand, or service is a key asset to a successful CX strategy. But, how do you know what your customers are really thinking and saying about your company? Are you asking about their initial reaction to your brand, and monitoring how they feel about you over time? What your customers are willing to tell you can be the most valuable data for improving brand and CX strategies.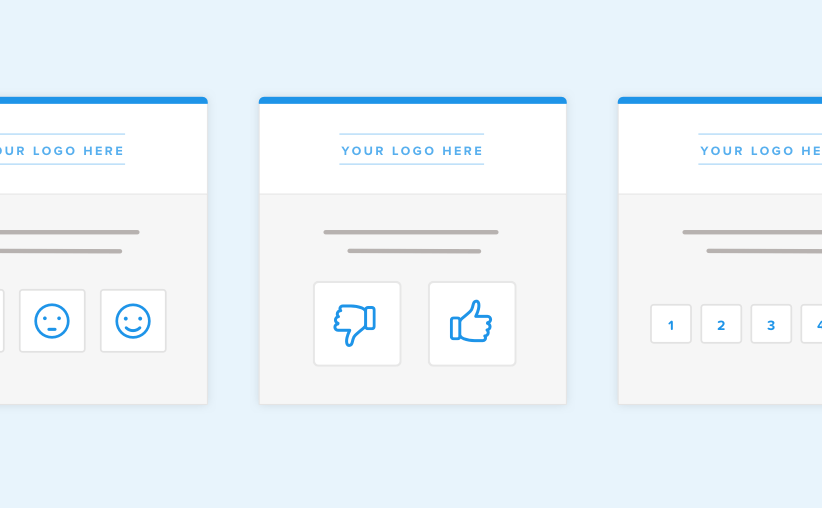 Gathering and measuring customer feedback data starts by deciding what customer experience metric works best for your business goals. Whether you want to measure your company's Net Promoter Score (NPS) or track your Customer Satisfaction Score (CSAT) on a 5-point scale, choose between a variety of customer survey templates to automate the sending of customer feedback surveys. If you want to take your program one step further during this initial phase, you may also want to consider mapping out the customer journey and developing buyer personas to enrich your CX strategy design plans.
How do I compare to others in my industry?
As more companies compete on customer experience to differentiate their brand, showing how you stack up to others in your industry can help you make a compelling argument for stakeholder buy-in. Studying your competitors' CX tactics can also help you flesh out your own strategy. NPS benchmarking allows you to compare your NPS to flagship companies in your industry easily.
How do you know when your NPS score needs improvement, even after looking at benchmarks? Delighted's Concierge Team Member, Ellie Peterson, answers the question and more on external and internal benchmarking in ChurnZero's guest blog post.
What is the ultimate goal or outcome?
Developing a CX strategy roadmap requires you to think long-term. What is your customer experience end goal? Perhaps it's reaching a specific Net Promoter Score by a certain date and creating internal metrics each quarter to take steps towards reaching the ideal number.
Consider creating measurable key performance indicators (KPIs) around customer success to track and measure these internal goals across the company. Team and company KPI numbers allow you to watch over time which of your improvements are working and when you need to go back to the drawing board as a leadership team. By using customer experience and company metrics, you can direct your efforts and investments to the areas where they will have the most long-term impact.
Optimizing your customer experience strategy
Now that you've thought about your customer experience survey metrics, internal goal-setting, and competitive benchmarks, it's time to dig deeper into how you can utilize customer feedback throughout your CX improvement planning.
Find commonalities within your customer feedback
Gathering customer feedback data is the quickest way to spot recurring customer issues, product feature requests, or areas for process improvement. For instance, are there commonly experienced issues during the online ordering process? Customer survey data will give you a better understanding of just how well your existing procedures live up to expectations.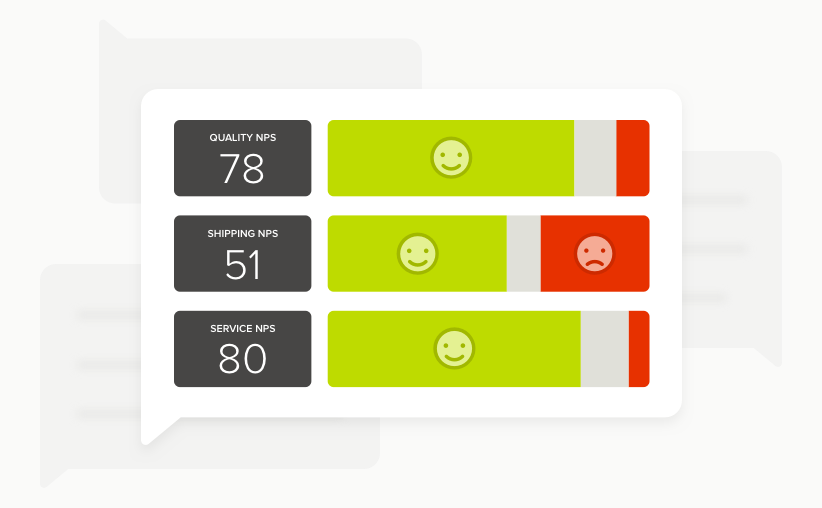 Digging through large pools of feedback data for common themes doesn't need to be a manual process. Create Trends to hone in on these themes within your survey responses or use Smart Trends powered by Delighted AI to automatically surface the commonalities on your behalf. Whichever you choose, multiple reporting options are available to help you find areas of improvement quicker, so you have more time to focus on using the feedback to advance your CX strategy.
Personalize your customer experience survey
Increased personalization is another way to upgrade your CX strategy. Customers want to feel heard, especially if they've taken the time to provide their experience feedback. Consider customizing your Thank You message at the end of your survey to express your appreciation. Direct them to a support line if they provided a poor rating or to your review site if they had a stellar experience.
Expand personalization by setting up special properties to automatically call out their name or specify the product they purchased directly within an email survey question. Customers remember personalized experiences, and in turn, are more likely to keep coming back to your brand.
Always close the loop for exceptional customer support
One bad social review can reach a large audience of potential customers. So, whether your customer receives their survey via email, web, or link, taking action to follow up with all customers is essential for a successful CX strategy.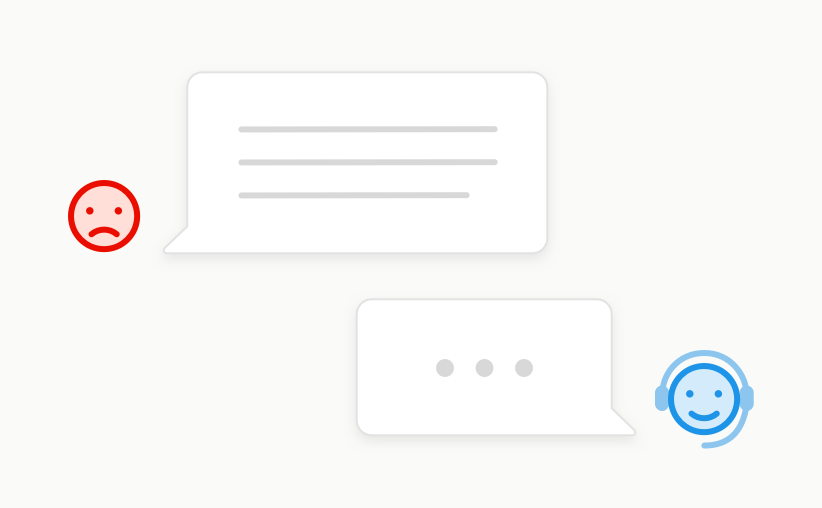 Set up automatic alerts to notify team members on your customer support team when a customer provides an unsatisfactory response. Or, integrate your survey feedback within Zendesk, Slack, and more to provide cross-team visibility into real-time feedback data, making improving customer experience and closing the loop an instantaneous process.
Make room for prioritizing the employee experience
A happy team is more likely to go above and beyond to make your customers happy in the long run. Data shows that companies who put employee engagement at the forefront of their company objectives have a 17% improvement in productivity and 21% uptick in profitability across their workforce.
Survey feedback can play the same role in tracking and managing employee experience as it can with your customers through eNPS. Within minutes, you can start gathering employee feedback and make a lasting impact on employee experience management to propel your scaling CX strategy forward.
Creating or upgrading your customer experience strategy is easy when you have the survey tools to support you in achieving your CX goals. Sign up for Delighted Survey Templates to take your first steps towards an impactful CX strategy and explore all of the survey features you need (Benchmarking, Trends, Thank you message, and more).